Duofuse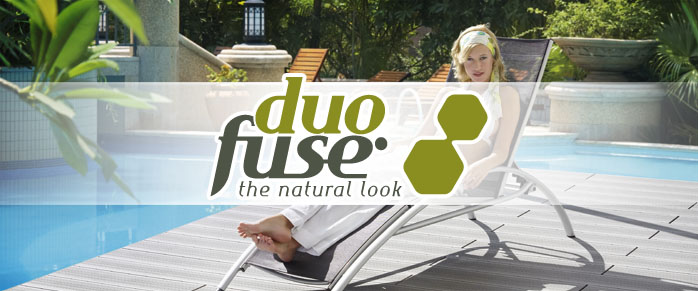 Duofuse is the modern technology of the boarding execution based on the wooden composite, whose aesthetic and practical qualities are invaluable. The Duofuse product family is numerous and is still growing. Duofuse is applicable in the construction of terrace boards and fencings. Due to the high resistance, it constitutes a good material for building constructions which are outside all year long.
Its main qualities are based on the use of the modern technology for production of aesthetic and durable material.
Technology: the composite is a material manufactured from at least two components. According to the assumption, it has better properties than its components. The wooden composite consists of the equal proportions of wood flour and PVC. In the process of manufacturing the WPC profiles (wood plastic composite) the material is combined with the wood fibres and bound with them on a permanent basis.
Material: owing to such a technology, the material with solid and aesthetic appearance of wood is created. At the same time, it has the desired properties of plastic materials. The design which imitates the natural wood is complemented by exceptional durability, which causes the comfort of use to not change for worse for many years.
The benefits of using the composite:
• Convenience: the composite does not require any maintenance and service procedures. It is a durable material, which is resistant to abrasion, salty water and chlorine. It is not affected by bad weather conditions and is resistant to the biodegradation processes. It does not require labour-consuming maintenance activities.
• Preservation of natural resources: it is an environment-friendly material. The composite consists of the polymer material and wood flour. The latter is the mixture of wood dust originating from the deciduous and coniferous forests. The composite produced from the combination of these components is 100% fit for recycling.
• Safety: the material does not contain lead and in comparison with wood, it is flame-retardant. It does not heat up and is neutral to allergy sufferers. It ensures safety and comfort of use.
• High standard: the material does not rot, warp or crack under the influence of temperature. Neither is it vulnerable to the impact of mould, other fungi or pests. The unquestionable advantage is the fact that the Duofuse board is manufactured in Europe. Owing to these features, we can enjoy the invariability of form and aesthetics for years.
• Warranty: a 25-year warranty is granted to the product. Additionally, we ensure consultations with qualified specialists.
link to the website: www.taraskompozytowy.pl
see the completed projects::
– Duofuse composite decking
– Duofuse composite fencing