Viligno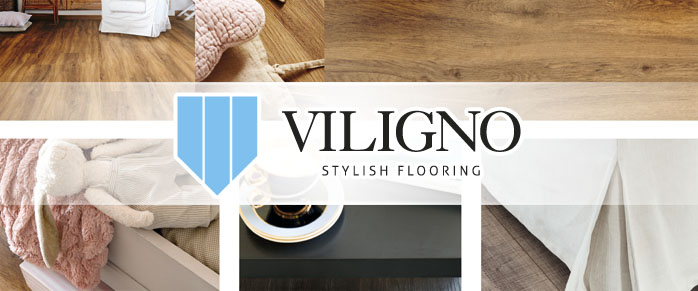 Floors that stand out for their design
Viligno vinyl floors have been created with the emphasis on design. They combine all the advantages of vinyl with the true natural appearance of authentic materials. Viligno LVT flooring includes a series of tile and wood motifs that are indistinguishable from the real thing.
Viligno floors are suitable for new builds as well as renovation; you can install them yourself, they are durable, of minimum thickness, smooth to walk on, easy to maintain, waterproof and environment-friendly. A Viligno floor adds style to your interior and also delivers substantial added value to your home. Besides domestic applications, Viligno LVT flooring is also perfectly suitable for commercial projects.
Technology:
Viligno floors are manufactured with respect for humans and nature. For example, VOC (Volatile Organic Compound) emissions are restricted to a minimum in order to keep the quality of the indoor air as pure as possible. Lastly, vinyl is a material that is 100% recyclable and can be reused without limit to create new raw materials and to manufacture new products.

Material:
Vinyl, or PVC, is a supple plastic with attractive benefits for flooring. Vinyl used to be supplied as floor covering on rolls, but its full potential is reached in the form of boards and tiles. Viligno LVT flooring offers many obvious advantages over other types of floor covering, such as carpeting, parquet and laminate. It is ideally suitable for 'wet' areas such as kitchens, bathrooms and toilets and can be combined with floor heating.

Benefit of using Viligno boards:
Easy installation:
Because of the handy (patented) click system, Viligno also provides possibilities for the do-it-yourselfer. With their minimal thickness, the boards and tiles can be placed on top of existing floors – ideal for renovation projects. Does not require to be glued.
Practicality:
Viligno floors are remarkably resistant to wear and scratching thanks to their abrasion resistant layer, coated with a polyurethane top layer. Viligno floors are remarkably resistant to wear and scratching thanks to their abrasion resistant layer, coated with a polyurethane top layer. Viligno floors can be combined with floor heating perfectly, as long as the contact temperature does not exceed 27° Celsius.
Health and hygiene:
The Viligno floor is very hygienic and easy to maintain, with positive effects on your health and wellbeing. Viligno floors are anti-static, anti-allergenic and anti-bacterial. They don't harbour dirt and are easy to dust and clean. Viligno floors offer a responsible solution for babies or elderly residents of the household, or people with allergies or sensitive airways.
Guarantee:
All floors Viligno includes 20-year warranty, provided a typical residential use..

link to the website:
www.viligno.pl
see the completed projects:Viligno boards